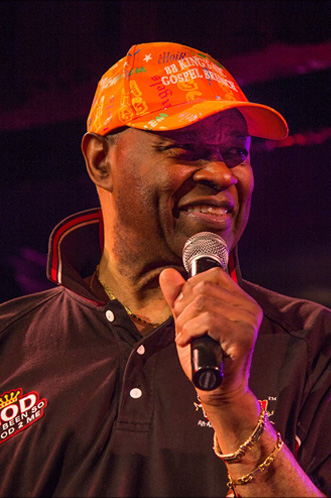 Allen Bailey
The World Famous Harlem Gospel Choir was founded by Allen Bailey (1940 – 2018).
Allen got the idea for the choir while attending a celebratory lunch in honor of Martin Luther King Jr. on January 15, 1986, at the Cotton Club in Harlem. He watched the tourists lining up outside many of the Harlem Churches to hear their choirs, & thought it might be a good idea to take the Harlem Church experience to the places where the tourists lived. And in that moment the Harlem Gospel Choir was born.
Allen worked in the entertainment industry for over 50 years. At the age of 13 he began to travel with Frankie Lyman and The Teenagers. Recognizing his organizational strengths and people personality, Frankie told him to "advance the tours and collect the money."
Allen was an entertainment booker while studying at Ohio State where he was one of the first to book Aretha Franklin for a college date. Don King appointed Allen entertainment coordinator for Rumble in the Jungle, the heavy-weight title fight between Mohammed Ali & George Foreman in Zaire. Allen was promotional director & advance man for major recording artists & film stars, including Lionel Richie & the Commodores, Prince, Michael Jackson, Mr. T, & Isaac Hayes.
In 1985 he assisted the east coast production of We are the World, working in a similar capacity for USA for Africa in 1986. He also assisted fund raising efforts for the Leukemia Society, the Cancer Foundation, & the United Negro College Fund. He was chairman for the Martin Luther King Holiday Campaign.
Always active in the Harlem Community, Allen co-ordinated Harlem's entertainment for the Nelson Mandela celebration at Yankee Stadium, & co-directed the Harlem Jazz Festival, the largest jazz festival in the world.
Sadly, Allen passed away on April 27, 2018 but we honor his vision with every performance at home & overseas, bringing people and nations together, & giving something back.